At our February 26th meeting we had 9 members present and discussed the book Open Season by C.J. Box. Everyone liked the book and felt it was a very good start of the series. It was highly rated as a fun read by the group but there were a few criticisms. The story centered around Joe Pickett, Wyoming game warden and a case that involves the murder, deceit and the endangered species act. Most criticism focused on the stereotypes of characters and the negative portrayal of almost all the women in the book. I personally felt that actions of Marybeth (Joe's wife) in the key confrontation were completely out of character for anyone who had ever lived in a remote area. Anyway, it was a lively discussion and we had grapes and nanaimo bars for treats.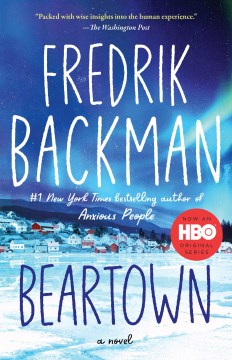 Our next book is Beartown by Fredrik Backman. Our bookgroup has read two other books by this author including A Man Called Ove and My Grandmother Asked Me to Tell You She's Sorry. Book discussion will take place on March 26th at 3pm in the LME Library's large meeting room. Copies of
Beartown
can be picked up at the circulation desk and discussion sheets are available with the book or online.
Beartown
summary:
"From the New York Times bestselling author comes a poignant, charming novel about a forgotten town fractured by scandal, and the amateur hockey team that might just change everything. Winning a junior ice hockey championship might not mean a lot to the average person, but it means everything to the residents of Beartown, a community slowly being eaten alive by unemployment and the surrounding wilderness. A victory like this would draw national attention to the ailing town: it could attract government funding and an influx of talented athletes who would choose Beartown over the big nearby cities. At first, it seems like the team might have a shot at fulfilling the dreams of their entire town. But one night at a drunken celebration following a key win, something happens between Kevin and the general manager's daughter--and the next day everything seems to have changed. Accusations are made and, like ripples on a pond, they travel through all of Beartown, leaving no resident unaffected. With so much riding on the success of the team, the line between loyalty and betrayal becomes difficult to discern. At last, it falls to one young man to find the courage to speak the truth that it seems no one else wants to hear. Fredrik Backman knows that we are forever shaped by the places we call home, and in this emotionally powerful, sweetly insightful story, he explores what can happen when we carry the heavy weight of other people's dreams on our shoulders."